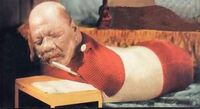 Prince Randian (1871 – December 19, 1934), AKA "The Living Torso," "The Human Caterpillar," "The Pillow Man," or "The Human Cigar," was born without arms or legs. Randion was in the movie Freaks. He crawled around and was able to roll a cigarette, light a match, and blow it out using only his mouth. He was married to "Princess Sarah."
Ad blocker interference detected!
Wikia is a free-to-use site that makes money from advertising. We have a modified experience for viewers using ad blockers

Wikia is not accessible if you've made further modifications. Remove the custom ad blocker rule(s) and the page will load as expected.