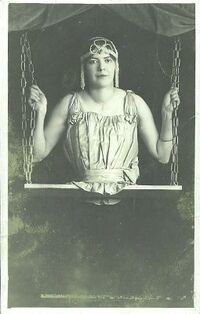 Mlle Gabrielle (1884 - ???), AKA "The Living Half-lady," was born without legs in Switzerland. She moved to America in 1914 and worked for Ringling Brothers. Throughout her years of sideshows she became a very rich woman. Nothing is known about what happened to her. It is rumored she moved back to her home town in Switzerland.
Ad blocker interference detected!
Wikia is a free-to-use site that makes money from advertising. We have a modified experience for viewers using ad blockers

Wikia is not accessible if you've made further modifications. Remove the custom ad blocker rule(s) and the page will load as expected.