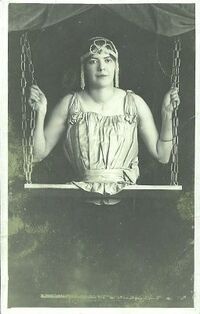 Mademoiselle Gabrielle (1884 - ???), AKA "The Living Half-lady," was born without legs in Basle, Switzerland. She first performed at the Paris Exposition in 1900 and moved moved to America in 1914 and worked for Ringling Brothers and performed at Coney Island. Throughout her years of sideshows she became a very rich woman. Nothing is known about what happened to her. She was married twice. It is rumored she moved back to her home town in Switzerland.
Ad blocker interference detected!
Wikia is a free-to-use site that makes money from advertising. We have a modified experience for viewers using ad blockers

Wikia is not accessible if you've made further modifications. Remove the custom ad blocker rule(s) and the page will load as expected.