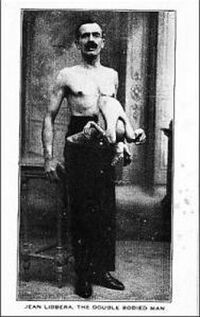 Jean Libbera (1884 - 1936), AKA "The Double-Bodied Man," had his brother, Jacques Libbera, connected to his from his chest-stomach area. He was born in Rome. The parasitic twin was alive and could move as well. An X-ray showed that there was a head embedded within Jean with a circumference of about six inches. He got married and had four normal children.
If you click on the source link it's Chinese sex stories ?
Ad blocker interference detected!
Wikia is a free-to-use site that makes money from advertising. We have a modified experience for viewers using ad blockers

Wikia is not accessible if you've made further modifications. Remove the custom ad blocker rule(s) and the page will load as expected.