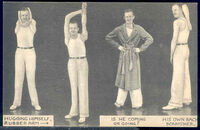 Harry Jones ( ??? - June 26, 1955), AKA "Rubberman," was very double jointed and could moved his arms all different ways, and turn both his feet around. He performed with Ripley's Believe It or Not. In 1955 Harry took a big fall. He was rushed to the hospital, but died of a broken neck.
Harry's part comes in after
Martin Laurello
Ad blocker interference detected!
Wikia is a free-to-use site that makes money from advertising. We have a modified experience for viewers using ad blockers

Wikia is not accessible if you've made further modifications. Remove the custom ad blocker rule(s) and the page will load as expected.