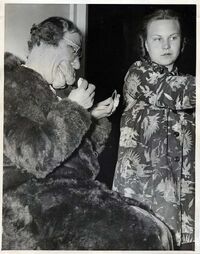 Grace McDaniels (1888 - August 1958), AKA the "Mule Faced Woman," was born in Numa, Iowa. She was called the "Mule Faced" Woman because, to some, her face resembled that of a mule's. The reasoning behind her exterior is that she had had lip cancer which caused her lip to swell. After about thirty years, her lip was so swollen that she was able to join a freak show. She was married and had a child. She later retired and moved to Tampa, Florida. She then died of lip cancer in 1958. Grace was featured in the movie "Freaks Uncensored!" (1998)
Grace was very religious and often gave people minature bibles as gifts. She always was polite to those who came to see her in the sideshow.
Dolly Reagan once said "Grace was the kindliest person in the world."
People who knew Grace said she was a very nice lady with a kind heart. Grace's son Elmer managed her career for her. Elmer was there when she passed on. Elmer died from cirrhosis of the liver.
Some suspect Grace suffered from a disorder known as Sturge Weber syndrome.
Ad blocker interference detected!
Wikia is a free-to-use site that makes money from advertising. We have a modified experience for viewers using ad blockers

Wikia is not accessible if you've made further modifications. Remove the custom ad blocker rule(s) and the page will load as expected.