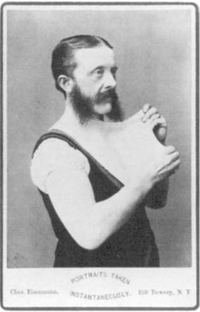 Felix Wehrle AKA "The Elastic-Skin Man," could stretch his skin out and could also bend his fingers backwards and forwards. He could stretch his skin on any part of his body. This was because Wehrle suffered from "Ehlers-Danlos Syndrome," a condition that makes your skin very flexible. He performed at many Barnum & Bailey shows.
Anomalies and curiosities of medicine
Connective tissue and its heritable disorders
Ad blocker interference detected!
Wikia is a free-to-use site that makes money from advertising. We have a modified experience for viewers using ad blockers

Wikia is not accessible if you've made further modifications. Remove the custom ad blocker rule(s) and the page will load as expected.