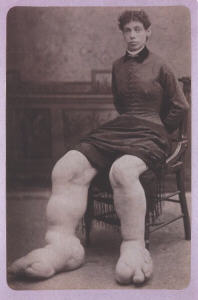 Misses Fannie Mills (August 30, 1860 or 1859 - 1899), AKA "The Ohio Big Foot Girl," she had a disease called Milroy Disease which caused her legs and feet to become gigantic. She was born in Sussex, England and had two sisters. Both other sisters were born normally. She was married to William Brown in 1886. William was born in 1834 and died in 1904. She had a baby in August of 1887, but it died. Fannie's feet got to be 17 inches long. She died in 1899 at age 39.
Ad blocker interference detected!
Wikia is a free-to-use site that makes money from advertising. We have a modified experience for viewers using ad blockers

Wikia is not accessible if you've made further modifications. Remove the custom ad blocker rule(s) and the page will load as expected.