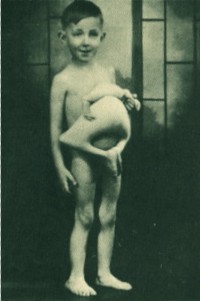 Ernie Defort (July 7, 1931 - ???), AKA "Ernie-Len, World's Strangest Living Boy," "Two Boys with One Head," or "Len and Ernie," had a parasitic twin growing out of his chest area. His parasitic twin's name was Len. In October or December of 1943, the parasitic twin was removed. He was said t,o have been married later in life. He may still be alive today.
Ad blocker interference detected!
Wikia is a free-to-use site that makes money from advertising. We have a modified experience for viewers using ad blockers

Wikia is not accessible if you've made further modifications. Remove the custom ad blocker rule(s) and the page will load as expected.