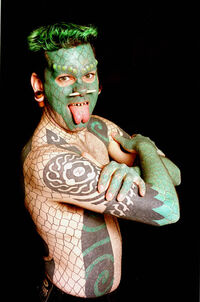 Erik Sprague (June 12, 1972 - present), also known as The Lizardman tries to look as much as he can like an actual lizard. Currently, Erik has tattoos over almost all of his body, a split tongue, subdermal implants, green-inked lips. He also hopes to get a tail some day in the near future.
Freak Life
Edit
Made most famous by Ripley's Believe it or Not, Sprangue is also a host of the Jägermeister Music Tour, he was a guest on the Tyra Banks Show, and is a writer for Body Modification E-zine. He lives in Austin, Texas, and holds a Bachelor of Arts degree in Philosophy from Hartwick College in Oneonta, New York.
External Links
Edit
Ad blocker interference detected!
Wikia is a free-to-use site that makes money from advertising. We have a modified experience for viewers using ad blockers

Wikia is not accessible if you've made further modifications. Remove the custom ad blocker rule(s) and the page will load as expected.