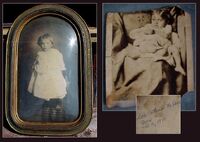 Catherine Virginia McDonald (November 10, 1910 - December 29, 1915) had an undeveloped twin growing in her chest area. She was born in Shenandoah County, Virginia to normal parents. She died of tonsillitis and bronchitis shortly after her 5th birthday.
Ad blocker interference detected!
Wikia is a free-to-use site that makes money from advertising. We have a modified experience for viewers using ad blockers

Wikia is not accessible if you've made further modifications. Remove the custom ad blocker rule(s) and the page will load as expected.