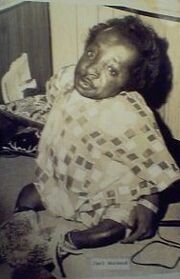 Carl Norwood
(March 4, 1939 - February 24, 1976) was born in Atlanta, GA, with parastremmatic dwarfism causing him to have a diminutive body and twisted limbs. He was proffessionally known as 'Froggy, the Frog Boy', and was known to have a"froggy" voice. He was best friends with Dick Hilburn, with whom he ran a sideshow. When Dick died in 1971, Carl was the only freak on the show and was presented by Dicks widow before she helped him extend his career by sending him to Ward Halls sideshow, where he worked for two seasons before retiring.
Ad blocker interference detected!
Wikia is a free-to-use site that makes money from advertising. We have a modified experience for viewers using ad blockers

Wikia is not accessible if you've made further modifications. Remove the custom ad blocker rule(s) and the page will load as expected.